Zen Master HHC Vape Carts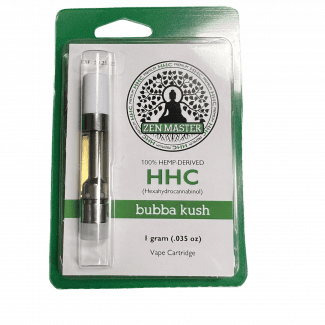 HHC (hydroxyhexahydrocannabinol) is a smooth and exceptional formula that you'll love when you try it. There is 1 gram of this cartridge, and it gives the user a lasting effect from this psychoactive experience.
Three forms of HHC are present in HHC concentrate with less than 0.2% other cannabinoids.  As a naturally occurring cannabinoid, HHC can be found in both cannabis seeds and pollen.  There are a few differences between THC and HHC, but HHC does have similar effects to THC.
According to some, it gives them the same euphoric feeling, pain-fighting, and anti nausea/vomiting effects as THC. So far, HHC appears to have about the same therapeutic effect profile as other forms of THC, as it is still relatively new and not many studies have been conducted to study its potential therapeutic effects.
The chiral center (enantiomer) of HHC is three-fold, so it has three different forms.  There are important differences between the three enantiomers of HHC because they show that it binds to two different receptors (CB1 and CB2), but only activates one of them (CB1). Since HHC is a naturally occurring cannabinoid found in hemp, it is not a THC type like Delta-8. As a result, HHC vapes, gummies, or edibles are currently legal on a federal level, and will most likely remain legal on a state level as well.
Where Can Zen Master HHC Products Be Purchased?
If you're looking for the best place in Katy Texas to buy Zen Master HHC then look no further. At CBD American Shaman of Katy, located at 24811 Katy Fwy Suite 400, Katy, TX 77494, we are dedicated to bringing you only the highest quality products available.  All of our HHC products are loaded with terpenes and phytocannabinoids, are non-GMO, pesticide-free, and grown right here in the USA.  Our products are all 3rd party lab tested for purity and contain less than .3% Delta 9 THC, which complies with all regulations listed in the 2018 United States Farm bill.  Come in today and get started on a new, healthier you!  Our hours are Monday through Thursday, 10 am – 7 pm, Friday and Saturday, 10 am – 8 pm and Sunday 12 pm – 5 pm. If you have any questions regarding Zen Master HHC Products or any of our CBD products, please give us a call at (832) 437-7712.