CBD American Shaman CBD Gummies
CBD American Shaman of Katy is dedicated to providing our customers with high-quality CBD and delta-8 products that are always lab-tested and completely legal. We carry a wide range of smokeable, edible, and topical products to ensure all of our customers can find something they love. Alongside our collection of products from reputable, lab-tested brands, we also offer our own line of topical and edible CBD products, which can be found in stores or purchased on our website. If you're just starting out with dosing CBD, or if you prefer edible CBD to other forms, you're sure to love our CBD American Shaman CBD Gummies.
What Makes Our CBD Gummies Great
Our 10mg CBD American Shaman CBD Gummies are made with pure, terpene-rich hemp oil, made only from American-grown hemp. This high-quality CBD comes in the form of gourmet mixed fruit flavor gummies, to make your daily CBD dose a sweet experience. The CBD in our products is treated with our proprietary nanotechnology to make it easier for your body to process, ensuring you get the most from everything we offer.
These gummies are discreet and easy to fit into your daily routine, and each piece is a measured dose, ready to eat straight from the bottle. Our gummies are a delicious, convenient way for new and experienced CBD users to receive the benefits of high-quality hemp oil.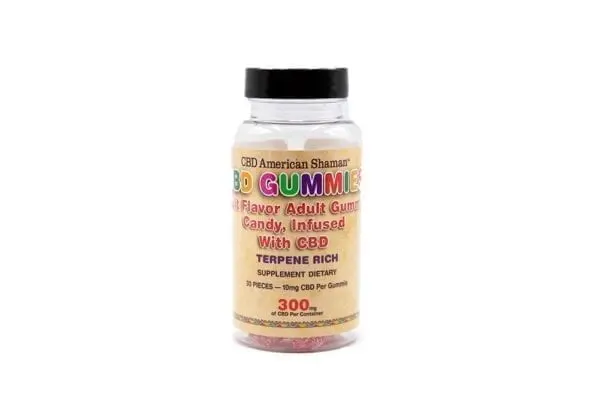 Are CBD Gummies Right For You
Edible CBD is a more concentrated way to dose, as the effects last longer than smokable products and affect the entire body, as opposed to topicals. If you're just starting out with CBD, edible gummies like ours are an easy way to introduce dosing into your daily routine.
When CBD is ingested, the hemp is released slowly throughout the day as your body digests food, making the effects long-lasting in small doses. Ingesting CBD is also less likely to cause lung irritation than smokeable CBD, making it a great choice for anyone with asthma or other lung conditions. Lastly, edible CBD is non-psychoactive, and can even counteract the effects of Delta-8 and Delta-9 THC.
Whether you're using it in the morning to start your day or in the evening to de-stress, edible CBD provides long-lasting, full-body effects without any psychoactive qualities.
CBD American Shaman of Katy is proud to offer our own diverse line of CBD products, from edibles to topicals. Alongside our Nano CBD Gummies, we also carry tinctures, topicals, and water-soluble CBD. All our products are made with non-GMO, American-grown hemp oil and treated with nanotechnology to ensure we're only delivering the best to our customers.
If you're interested in an easy way to add CBD to any drink, you'll love our water-soluble CBD, which is available in 300mg, 600mg, and 900mg per bottle, with and without THC. If you're looking to target specific areas of your body, we encourage you to try one of our topical products, like our replenishing face cream or our CBD-infused body lotion.
CBD, Delta-8 and More at CBD American Shaman of Katy
CBD American Shaman of Katy is your one-stop shop for CBD, Delta-8, and Delta-9 in a variety of different forms. Whether you're a new or experienced CBD or Delta-8 user, our friendly staff is always available to answer questions and help you find to suit your specific needs. We take pride in only carrying lab-tested, fully legal hemp products from trustworthy brands, as well as providing our own line of CBD American Shaman products. You can find us at 24811 Katy Fwy Suite 400, Katy, TX 77494, or call us at (832) 437-7712. For more information on us, or to shop our online store, be sure to visit our website.